When faced with disability or reduced function due to age, options to get in and out of your car can become important. However, this does not have to be a limiting factor to maintaining your independence and freedom to participate in the community.
At Total Ability, we have several options to get in and out of your car that can resolve this issue for you. Whether you can stand or walk, transfer out of your wheelchair or need to stay in your wheelchair to travel in a vehicle, we have something for you. 
Transfer Platform
At the most economic end of options we have the Transfer Platform. When the gap between your wheelchair and the car seat is too big to navigate safely, the Transfer Platform is a great solution.
Features:
The seat base is discreetly installed to the existing seat rails and is load rated to 120kg. The platform is 22mm thick when folded down. This ensures you can close the door and the flip back feature allows for normal use of the seat controls. 
Swivel
Seat Base
When lowering or transferring yourself into a car seat becomes a problem. The car door opening may be too restrictive and getting assistance is cumbersome due to limited space. The Swivel Seat Base is an option to safely get into the car. It gets the seat out of the vehicle so that you have more room to lower yourself or transfer from a wheelchair safely to the seat.  
Features:
The swivel seat can be operated manually, electronically or a combination of both depending on the model chosen. It has a 103-degree rotation and transitions forward 220mm. The low-profile design, which is only 40mm high, enables installation in most vehicles without causing height restrictions.  
It is also compatible with the vehicle's original mounting brackets ensuring safety is not compromised. It's not often possible to fit it on the driver side due to the difficulty in clearing the steering column when swivelling in and out of the vehicle. However, t is ideal for the passenger side. 
Lowering Swivel Seat Base
Our next option is the Lowering Swivel Seat Base. When you don't want to be limited to the type of vehicle to purchase due to height, such as an SUV. The Lowering Swivel Seat Base takes care of navigating the height restrictions. The lowering function ensures easy access into a range of vehicle types. It has the ability to lower the seat 400/480mm depending on model chosen. 
Features:
It is one of the lightest products on the market starting at 46kg and has a low-profile design of only 160mm high. This allows maximum possibility to re-use the original car seat. All controls associated with the Lowering Swivel Seat are controlled electronically from a keypad. This can be performed from a wireless control and can also be programmed so the swivelling and lowering are controlled in one smooth motion with the press of just one button.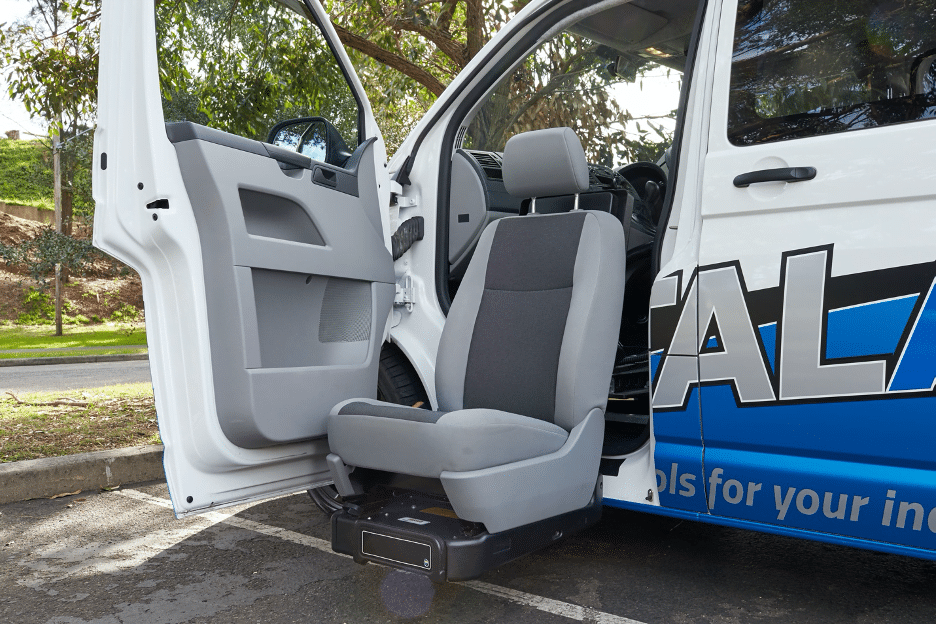 Whether it's to go shopping, on a road trip or just getting to appointments and recreational outings, the swivel seat base range can maintain safety, independence and freedom for the passenger and the whole family/carer network. 
These are great options so far, but what if you can't transfer out of your wheelchair and need to access your vehicle. This is where our ramps and platform lift options for vans and minibuses are helpful. 
Ramps
Our range of Movia Access Ramps are easy to use, reliable, functional and super strong. Their unique design makes them very lightweight and easy to use, often not needing to go to the automatic versions. 
Features:
The ramps are available in a range of lengths (1.4m to 3.9m), widths (58cm to 120cm) in 2 or 3 segments. There are plenty of options to cater to your needs and ensure the right inclination is achieved for all types of vehicles.  
They are load rated to 350kg, so power wheelchairs can be handled with ease. The ramp has no welded parts making it strong and not subject to structural fatigue over time. The ramp edges help with guidance as you load and unload.
Easily transferable to the next vehicle, with minimal modifications to the floor of the vehicle. The Movia ramps are a very practical and value for money option when you need to access your vehicle with a wheelchair or scooter. 
Platform Lift
The platform lift is ideal for transporting wheelchair users in all types of minivans or minibuses and overcoming any height variances from ground to vehicle entry.
Features: 
The platform lift can be installed as side or rear entry, so depending on where you live (city or regional), one may be more practical than the other to find parking with the right space for entry/exit of the vehicle. 
The platform contact surface is punched making it sturdy, lightweight and anti-slip. When folded it does not interfere with rear visibility. The Platform Lift comes in two models – bi-fold and single platform. The lightweight design varies between 85kg and 106kg and is load rated to 320kg and 350kg, depending on the model.  
The platform lift comes in usable platform widths between 650mm and 800mm. It's easy to operate with a simple 2 button keypad, taking 8 or 10 seconds to lower the platform (empty) to a maximum descent height of 760mm or 1000mm.
With a full load the platform takes 10 or 15 seconds to raise and another 8 or 10 seconds to close the platform lift loading floor (operating times vary slightly between the lift models).
Should something ever happen with the electricals, an emergency pump is available to manually operate the system and guaranteeing basic operation of the lift ensuring it never lets you down. 
So, there you have it – from a transfer platform to swivel seat bases, ramps and platform lifts. Whether you need to access your vehicle with or without a wheelchair, we've got you covered. Nothing is impossible, there are solutions for every obstacle. 
Don't hesitate to contact our team at Total Ability on 1300 858 410 or info@totalability.com.au to find a solution for you. If you are not in Sydney, don't fret, we have a network of installers nationally who can recommend and install our products to meet your needs, just ask us! 
You may also be interested in: